It's my long time wish to bake egg free version of heart shaped apple carrot cupcakes. As Valentine day is nearing I tried heart shaped cupcakes from usual/round muffin pan. When I browsed some says using marble stone and few suggested rolled aluminum foil to get the heart shape from regular pan. Since I don't have marble stones, I rolled dried beans in aluminum foil and tried my best. To my surprise it came out well. I applied cream cheese frosting and decorated with colored sprinkles, frosting is purely optional you can have it plain too. Try this simple yet healthy Cupcakes/Muffins, your kids will definitely enjoy for sure. These tempting cupcakes disappear quickly right? So never minded to click in dull light this time 🙂

Ingredients
APF/Maida – 1 Cup
Shredded Carrot and Apple – 1/2 Cup
Baking Powder – 1/2tsp
Baking Soda – 1/2tsp
Brown Sugar – 1/2 Cup
Vanilla Extract – 1/2tsp
Salt – 1/4tsp
Butter – 4 Tbsp (Room Temp) or more
Yogurt/Curd – 1/2 Cup
Milk – 1/4 Cup
Cinnamon and Cloves Powder – 3/4th Tbsp
Chopped nuts – 1/4 Cup (Optional)
Yields – 8-10 Heart Cupcakes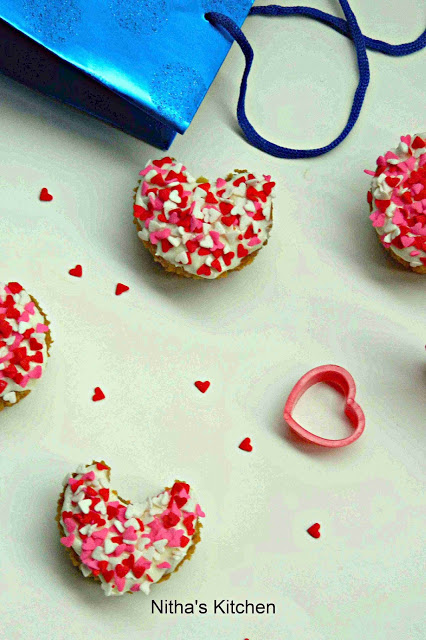 Method
Peel the skin and shred the Carrot first.
Mix the dry ingredients flour, baking soda, powder and salt in a separate bowl.
Cream butter and sugar till soft and smooth.
Add yogurt, cinnamon  and cloves powder, vanilla extract and beat for another 2-3 mins Pic 2.
Now peel and grate the apple using large hole in the grater.
Add the shredded stuffs and mix well.
Now slowly add dry ingredients in batches Pic 3.
Add milk 1/2 tbsp at a time to attain the dropping consistency.
Now place the paper liners in muffin pan, add some dried beans to a piece of aluminum foil as shown in Pic, and roll tightly.
Keep this balls gently between pan n paper liner as shown in Pic 4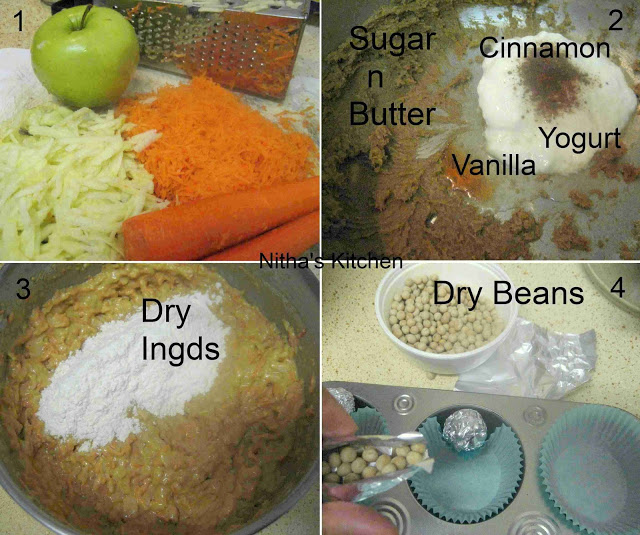 Now drop the batter 3/4th in each muffin as shown in Pic 1 below
Even the batter all over the edges using small spoon or toothpick.
Bake at 350° F for 15mins or toothpick inserted at center comes out clean Pic 2.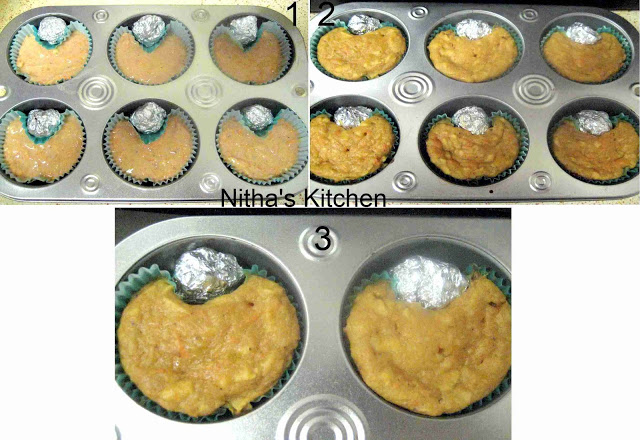 Allow to cool using cool rack for another 30 mins and remove the paper liner.
Apply frosting (I used Cream Cheese Frosting) and decorate to your creativity.
Note:
Can use either Apple or Carrot too and can decrease to 1 cup for 1 cup flour, but I increased a bit…