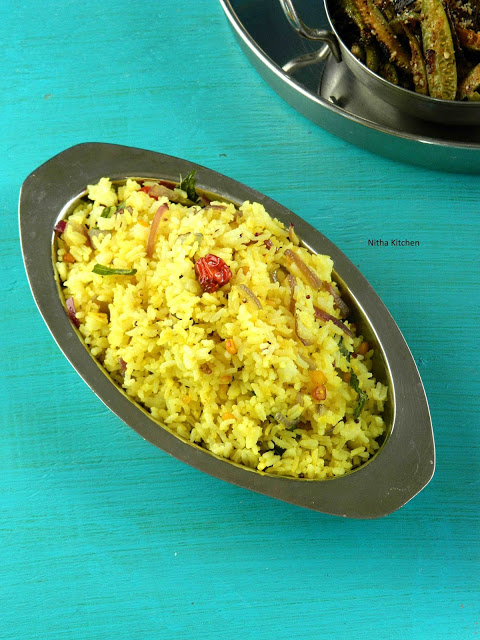 When I think about this recipe, I am cherishing my good old memories. My mom usually wakes at 4 am and I have to start at 5.30 am for the school. I pack both my breakfast and lunch when I start from home. She prepares this delicious simple variety rice (Varutha sadam) in jiffy for lunch and some dosa or idli for my usual school breakfast. This rice was my friends favorite too…While sharing sometimes I wont get my lunch box back 🙂 After a while I made it recently so I have updated the post with some recent pictures as well. When I am tired in making varieties, even I pack this rice for my husband's and kids lunch box. Chumma varutha sadam / simple onion variety rice doesn't have any special masala or tanginess but tempering with dals and shallot gives wonderful taste. This is a perfect quick lunch box special, you can make it healthier by adding frozen peas or cooked chana dal to this rice. Mom's recipes are special right, will move on to the detailed post 🙂
Ingredients
Cooked Rice/Leftover Rice – 2 Cups (Today I used Leftover rice Picture 1)
Whole Red Chilli – 2 Numbers
Urad dal + Chana Dal – 1 Tbsp (Must for this Recipe)
Shallot/Small Onion/Chinna Vengayam – 5 -7 Numbers (A Must for this Recipe)
Turmeric Powder – 1/4tsp
Cooked White Chana – 1/4 Cup (Optional)
Frozen Peas – 2 Tbsp (Optional)
Oil, Mustard Seeds, Curry Leaves and Salt – As Required
Method
Heat Oil when mustard seeds splutter add urad dhal.
When urad dhal changes light golden brown, add chopped onion, red chilli, curry leaves and turmeric powder Pic 2.
Onion has to cook well n change it color well, add cooked channa dhal (Pic 3).
Finally add rice and salt(Pic 4), stir well n add peas (See note 2), cook for another couple of mins before removing from heat.
Best to finish within 6 hours at room temperature.
I used frozen sweet peas which took 1-2 mins to cook, so added finally in the sauteing process.
Old Post Updated with Recent Pictures, the one is the backdrop is tindora fry :-)…