Coming to this month Divya's South vs North Indian bloggers challenge, South Indian teams are challenged with Peas kachori by Sanoli and North Indian teams are challenged with Paal Kozhukattai by our South Indian team member Tamil. Just 2hrs before I checked my mail floated with this Green Peas Stuffed Kachori with Aloo dum masala challenge, luckily this time I had all ingredients to do this recipe. Kids are taking nap so I quickly completed my challenge. This Peas kachori is North Indian/Bengali delicacy like stuffed puri, I tasted it before but this is the very first time making at home. Peas has to be ground coarse n stuffed in maida/APF dough, flattened thin/thick before deep fried, finally served with aloo dum masala. I thank the whole team for giving me the opportunity to prepare new recipes every month. Here comes the detailed recipe 🙂
First prepare the filling.
Ingredients for Filling
Green Peas – 2 Cups (I used frozen)
Sweet Corn Kernels – 1/4 Cup (Optional, I usually mix peas and corn kernels while freezing it)
Green Chillies – 2
Cumin Powder – 1tsp
Clarified Butter/Ghee – 1 Tbsp
Hing/Asafoetida – Pinch
Ginger paste – 1 tsp (Need another 2tsp for gravy preparation so make sure)
Sugar – 1 tsp (Adding sweet corn doesn't need this sugar)
Salt -As needed
Method
Pulse the mixie/blender with peas, corn kernels and green chillis to a coarse paste.
Heat ghee in a pan add ginger paste, saute well.
Add cumin powder, hing, salt, sugar mix well and finally add ground paste.
Saute till all the moisture goes off.
Allow to cool Pic 2 below, it should not stick much to ur hands and able to make gooseberry size balls, this is the perfect texture for stuffing.
Pic 1 is gravy preparation…
Kachori dough preparation
All Purpose Flour – 1 and 1/2 Cup
Salt – 1/2 tsp
Oil – 2 Tbsp
Water – As needed (not more than 3/4th cup)
Method
Mix flour, salt and oil to crumble texture as shown in Pic 2  above.
Now gradually add water and make smooth and bit stiff dough.
Rest it for 30mins by brushing the top with little oil and covered, meanwhile prepare the gravy.
After 30 mins, make equal size balls Pic 3, roll to round circle n keep the already prepared peas stuff.
Cover the stuff with enough dough and remove the excess.
Now again gently round it and roll to thin/thick layered kachori (See Note 1).
Look in to the above picture 3 with several steps how to make this stuffed kachori.
Just tried heart shape for my daughter 🙂
Heat required oil to deep fry this rolled kachoris and deep fry in very hot oil.
Add more than 1 at a time while frying, if so wait for the first to pop up  (Pic 4) then add the second.
Drain the excess oil with paper towel Pic 5.

Ingredients for Dum Aloo Gravy
Potatoes – 3 Numbers (Medium size) – If you have baby potatoes do use it.
Green Peas -1/4 Cup
Green Chillies – 2 Numbers or Red Capsicum to give good color (I used red capsicum)
Tomato – 1 Number (Large size)
Plain Yogurt (thick) – 1/2 cup
Cumin seeds – 1/2tsp
Fennel seeds – 1/2tsp
Turmeric powder – 1/2tsp
Cumin powder – 1/2tsp
Coriander powder – 1 Tbsp
Kashmiri Red Chilli powder – 1/2tsp or according to taste
Garam Masala powder – 1/2tsp
Ginger paste – 2tsp
Bay leaf – 1 No
Coriander Leaves -Few chopped for garnishing
Oil – 4 Tbsp
Salt and Water – As needed
Method
Pressure cook the potatoes for 2 whistle (Depends on the size you use, don't make mushy).
Peel the skin and cut in to slices, if using baby potatoes add as a whole.
Heat 2 Tbsp of oil and fry this potatoes for while (5-8mins in medium flame).
Remove the potatoes and in the same pan add remaining oil.
Splutter fennel anf cumin seeds, add bay leaf.
Add ginger paste and capsicum paste right now.
When nice aroma attains, add chopped tomatoes and wait till it mashes well.
Add all the dry powders, peas and stir well.
If required sprinkle water right now.
When oil separates add fried potatoes n yogurt mix well, Pic 1 above.
Again leave it in low flame for another 5-8mins to attain the thick gravy consistency.
Garnish with coriander leaves.
Now serve hot with fried kachoris.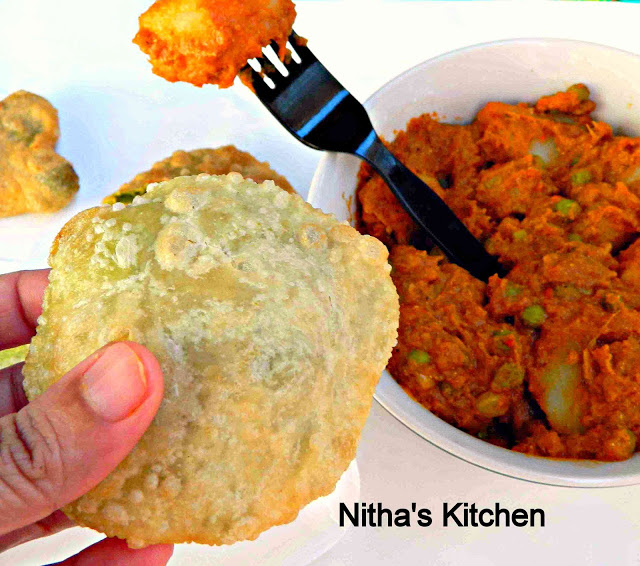 Notes:
1. Gently roll otherwise stuffing come out, if so can do patch work or otherwise make another thin dough and place this messed one inside and roll it.
2. Thin layered kachoris pop up well whereas thick layered never raise, did both as shown below.