This is the recipe challenged by Shruti for last month South Vs North Indian challenge, event started by Divya Pramil. I am unable to finish it on right time better late than never right…so here comes the Pista kulfi recipe and thanks Shruti for this delicious challenge. Matka means Terracotta pot or cup and here i used both earthenware pots and plastic khulfi moulds.
Ingredients
Regular Milk – 1 litre (4 and 1/4 Cups)
Condensed Milk – 1/2 tin (200 grams/7oz)
Sugar – 1/2 Cup
Cornflour – 1 n 1/2 Tbsp
Cardamom powder – 1tsp
Pistachios – 3 + 1 Tbsp (Shells Removed)
Rose Syrup – 1/4tsp (Optional)
Saffron (Kesar) – 1/4tsp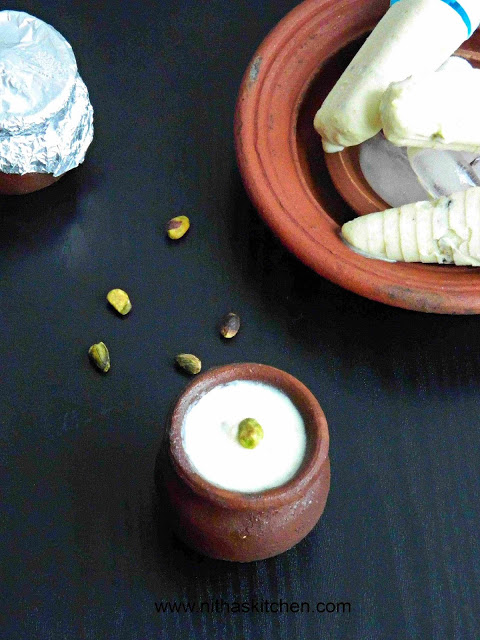 Method
Soak 1 Tbsp of pista in hot milk.
Boil 1 litre milk in wide pan.
Keep stirring and not to burn at the bottom.
When milk starts to foam, simmer and add sugar and condensed milk.
Keep stirring in low to medium flame till the 1 litre reduces to 3/4th litre.
Chop the remainig 3 tbsp pistas and add it.
Grind the soaked pista and add it to the simmering milk (Pic 1).
Add cardamom powder, kesar strands and rose syrup (Pic 2).
Also dissolve corn flour in milk and add it to the boiling milk (Pic 2).
Stir all together and wait for vigorous boiling point.
Remove from heat and allow to cool before pouring in kulfi moulds or earthernwear pots (Pic 3).

Cover the pots with aluminum foil and freeze overnight or at least 6hours to set.
Enjoy when it is chill enough…
Notes
To make it something creative to attract kids, pour only half of the milk in moulds, allow to set for few hours like 2hrs and then take it out, now add few chopped pistachious,add kulfi milk mixture to fill the moulds, freeze it again to set well…You can see the picture I uploaded in white background above (The yellow mould), that image has kulfi with centered pistachios…
You can skip condensed milk, if so add another 1 cup of milk and thicken it to 1/4cup, increase sugar.
If having milk powder then check Home made condensed milk recipe.
If you don't hv either milk powder or condensed milk, you can enhance the taste by adding homemade paneer too, check the Mango kulfi with that method.