Eggless Savory Caraway Cheddar Biscotti
This is my first experience in baking biscotti. Usually biscottis are baked twice and thanks Priya sis for this wonderful challenge, she suggested 4 recipes with 2 savory and 2 sweet versions, out of that i chose this savory caraway cheddar biscotti recipe for home bakers challenge group. Kids really like this crisp biscotti and if you dont want more crispier then reduce the second baking time. 
Recipe
Source :- Adapted from here
Ingredients
All-purpose flour/Maida – 1 an 1/4 Cup (I used unbleached organic all-purpose)
Grated Cheese – 1 Cup (I used sharp cheddar)
Baking powder – 1/2tsp
Milk – 4 Tbsp or More
Salt – 3/4tsp
Cayenne/Red Chili Powder – 1/4tsp, or to taste (Replace with Paprika or Red Chili Flakes)
Caraway seeds/Shahi Jeera/Fennel Seeds – 1/2tsp
Savory Caraway Cheddar Biscotti Preparation
Grate the cheese in the veg grater/food processor.
Add Flour,Salt, Baking Powder, Cayenne and Caraway in a separate bowl (Pic 1)
Add the milk and whisk it well until milk n cheese are well combined (Pic 2).
Add in the remaining ingredients, then start mixing with your hand/food processor(pulse) until the dough just forms a ball (Pic 3).
Turn out
onto a slightly floured surface and knead 3-4 times(Pic 3) and the dough is coated
with flour.
Transfer to a parchment lined baking sheet and form into a long
rectangle/log, about 8″ long (I made 2 4″ inch long) and 4-6″ wide (Pic 4, depending on how short and fat or
long and skinny you want your biscotti to be) and flatten gently with your
hands (Pic 4).
Bake at 350°F for 20 – 25 minutes until the log is firm (Pic 5).
Let cool about 10 minutes, then
cut into 1/2″ slices (Pic 6).
Arrange again on the baking sheet, then bake for 10 minutes more.
Flip and bake again for another 10-15 minutes or until biscotti is slightly golden (Pic 7).
Let cool completely before serving or packaging.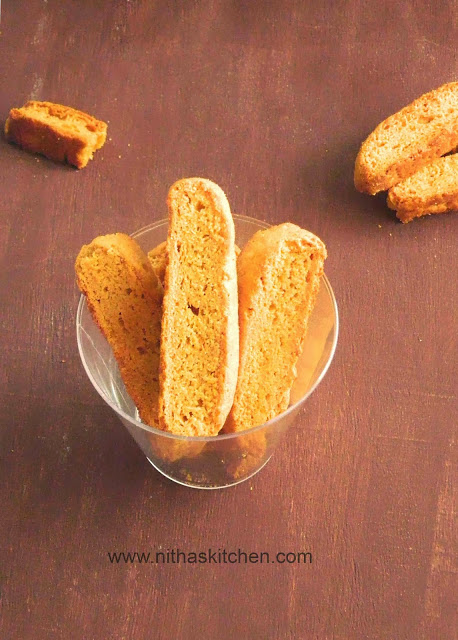 Variations
If you like to add egg then replace milk with 2 eggs for the above quantity.
Adjust milk to form the dough.
Can skip caraway seeds,if you don't like the flavor.