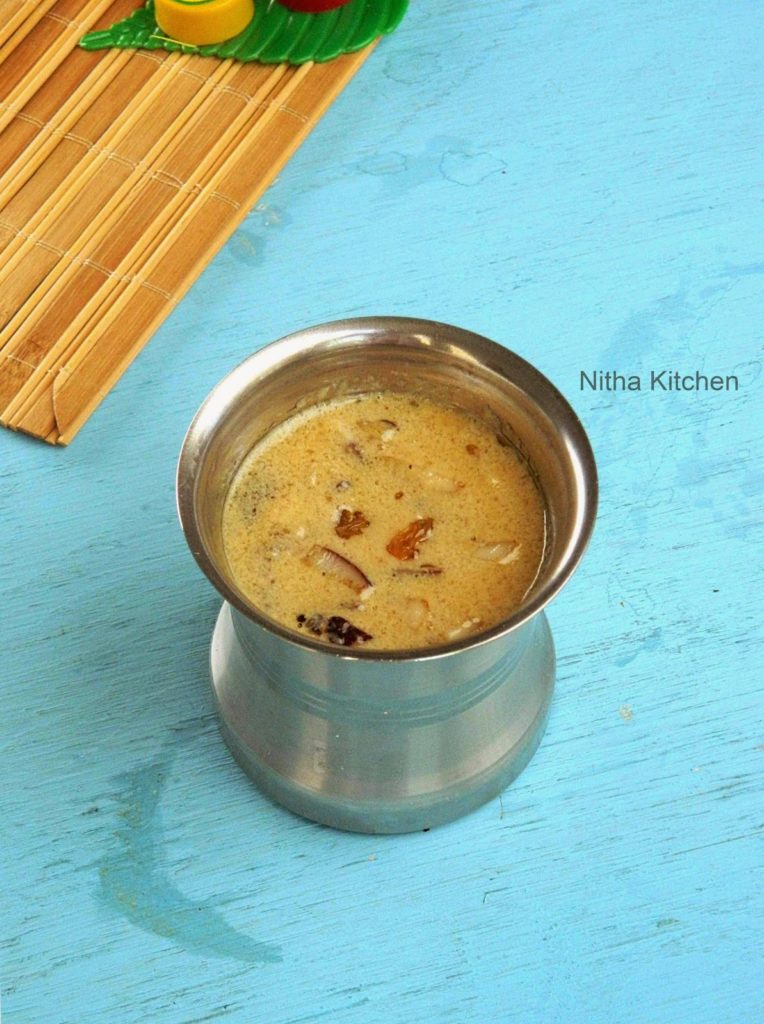 The new year of many South and North Indian calendars falls between 13 to 15th of April, marking the beginning of spring. Tomorrow April 14th the Tamil New Year (Puthandu) is celebrated in the South Indian state of Tamil Nadu, on the first day of tamil month Chithirai (சித்திரை). The next day Apr 15th, Malayalam New Year (Vishu) is celebrated in the South Indian state of Kerala. The same day Bisu is celebrated in the Western parts of Karnataka where Tulu is spoken. People all around the world celebrate their respective new year by offering flowers, fruits/food to their favorite God. I am wishing you all a very happy new year and here comes a quick dessert Arisi Thengai Paal Payasam/Coconut Milk Kheer recipe on this special occasion.
Ingredients
*First Coconut Milk – 3/4 Cup (Use store bought coconut milk tins)
*Second Extracted Coconut Milk – 1/2 Cup
Raw Rice – 1/4 Cup
Jaggery – 3/4 Cup or More
Milk – 1/3 Cup to 1/2 Cup (You can use heavy cream or half and half or condensed milk (if using then reduce jaggery), i use so)
Cardamom Powder – 2tsp
Golden Raisins/Sliced Nuts or Sliced Coconuts – Few
Ghee/Oil – To Fry Nuts
Water – 1n1/2 Cups
*Add 3/4th Cup shredded coconut and 3/4th cup warm water to extract thick milk again add 1/2 cup warm water and you get second extracted milk.
Method
Soak the rice with 1 cup water for at least 1 hour.
Meanwhile roast the thinly sliced coconut with a tbsp oil or ghee till golden brown (Stepwise Pic 2) and keep aside.
In the same pan fry the raisins or selected nuts till golden brown and keep aside.
Melt the jaggery in 1/2 cup water, once diluted filter the impurities and make it ready (Pic 3).
If you have leftover jaggery syrup then you can use it here.
1 hour later grind the rice(Pic 1) with necessary water to fine paste in food processor or mixie (Pic 3).
Make the other stuffs ready (Pic 3).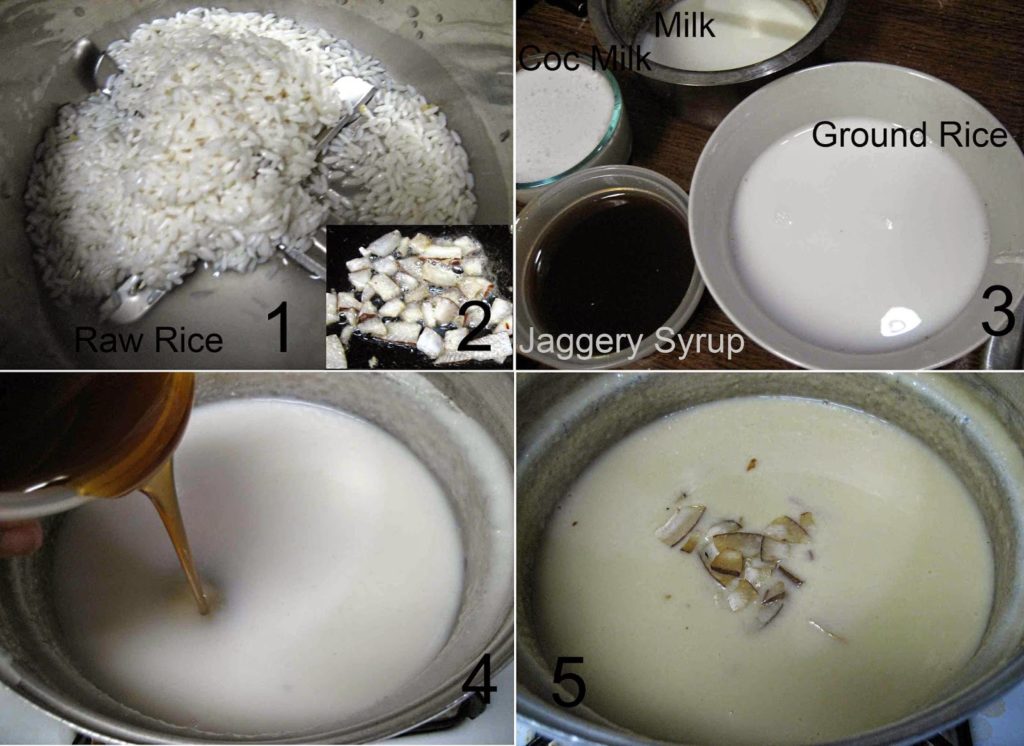 In the same roasted pan add the rice batter with 1n1/2 cups water.
In low to medium flame keep stirring and make sure not to burn the bottom.
Rice has the tendency to get thick soon and lay at the bottom of the vessel, so keep stirring from bottom to top.
Once it cooked well (5-7 mins approx) and gets thicken, add both home extracted coconut milk, if using store bought then add 1 cup milk and remaining with water.
Keep stirring for another 5 mins in medium flame.
Add the jaggery syrup(Pic 4), cardamom powder and cook for another few minutes or till it reaches payasam/kheer consistency.
Finally add roasted nuts, coconuts (Pic 5) and remove from flame.
Now add the boiled milk as you prefer and Serve warm.
Note
Don't add the milk and coconut milk together, it may cause the kheer to curdle.
I never get the experience of curdled kheer but make sure to add the boiled milk at the end.
Instead of coconut milk you can add the coconut paste.
Increase Jaggery according to your sweet buds.
For Vegan just skip regular milk.