It has been 3 years since we have been to India. From then my kid's top like list has Kulfi , Choco Bar ice cream , so and so. After that trip in every summer break I make Choco Bar Ice Cream without fail and it took me three years to post this recorded video recipe, how lazy me :-). This recipe is so flexible
you can use any cream ie any fat percentage cream, Also the video tutorial in detail explains the whipped cream consistency, ie even over whipped cream works for this recipe.
Tips for Perfect Choco Bar Ice Cream
Because of room temperature choco bar sweats and when you keep it back in freezer it comes to normal.
If the ice cream bar is cold and the melted chocolate is hot then cracks happen so wait for the chocolate melts to cool down completely at the same time it should to glossy and pouring texture.
Always work with cold ice cream bars otherwise it oozes out and messes/melts while dipping in the chocolate.
How to choose Chocolate
Coming to chocolate all good quality Chocolates works and I experimented so far with Milk Chocolate, Chocolate Wafers , Candy Melts and 75% Chocolate plus 25% Chocolate Chips, all are equally good…Also while tempering use either chocolate with oil or chocolate with veg shortening. If you have small quantity of chocolate do mix a small amount of chocolate chips to it and if needed a tsp heavy cream to bring to right consistency. For Vanilla or light color ice cream bar use dark chocolate as coating and for dark ice cream bars use white chocolate coating.
Ingredients

Whipping Cream – 1 Cup

Condensed Milk – 1/3 Cup

Vanilla Extract – 1/2 tsp

Milk/Dark Chocolate – 75 Grams

Coconut Oil/Flavorless Oil/Veg Shortening – 3 Tbsp

Cashew nuts/ Almonds – 1/3 Cup
Video Tutorial
How to Make Choco Bar Ice Cream
Chill the bowl and beater for 30 minutes before whipping the cream.
Later pour cold cream to the chilled bowl (Pic 1) and start beating in medium speed (Pic 3).
In less than 5 minutes it attains soft peaks, if so do add condensed milk and vanilla extract.
Continue beating and once cream leaves tracks as shown in Pic 4, slow the speed or stop and use this low fat cream in the kulfi molds.
If your cream has fat percentage of 35% or more do continue beating in slow speed and at pic 5 it attained medium peaks.
In fraction of seconds it turns to stiff peaks, that's the right consistency as shown in Pic 6 and Pic 7.
Even over whipped grainy cream can be used to make this ice cream bar and i have shown it at the end of the video tutorial.
So once your cream is ready, Place wooden sticks in each mold as shown in Pic 8.
Do fill in the molds without any gap, also lift the Popsicle stick while filling (Pic 8).
Once filled wipe the excess (Pic 9) also tap to release any air bubbles.
Top it with chopped cashew nuts or almonds of your choice (Pic 9 & 10).
Slightly press it down and let it sit in the freezer until it sets (4-5 hours minimum).
Once it sets remove from the mold and place them in a chill board/parchment paper (Pic 11) and keep it back in the freezer till you dip in chocolate melt.
I feel parchment paper is better which can be pulled out easily while dipping in chocolate melt.
How to temper Chocolate
Take the chocolate/candy melts in a glass or metal bowl (Pic 12).
In a sauce pan heat the water and when it is hot place the chocolate placed bowl inside or over (double broiler) and stir until it is melted to 90% .
Later remove it from the hot water (Pic 13), if there is any grainy un melted chocolate it melts in the bowl temperature.
Take Coconut Oil or Flavorless Oil or Veg Shortening in a glass cup/something flexible to dip your ice cream bars.
Pour the melted chocolate in to it (Pic 14), if needed you can warm this mixture until it looks glossy/shiny and perfect in texture (Pic 15).
While working with chocolate dipping, do take a batch of ice cream bars out from the freezer.
Dip each ice cream bar gently and if needed use spoon to cover completely (Pic 16).
Immediately tap the excess chocolate (Pic 17) and place over parchment paper.
I froze the parchment paper before placing the choco bars.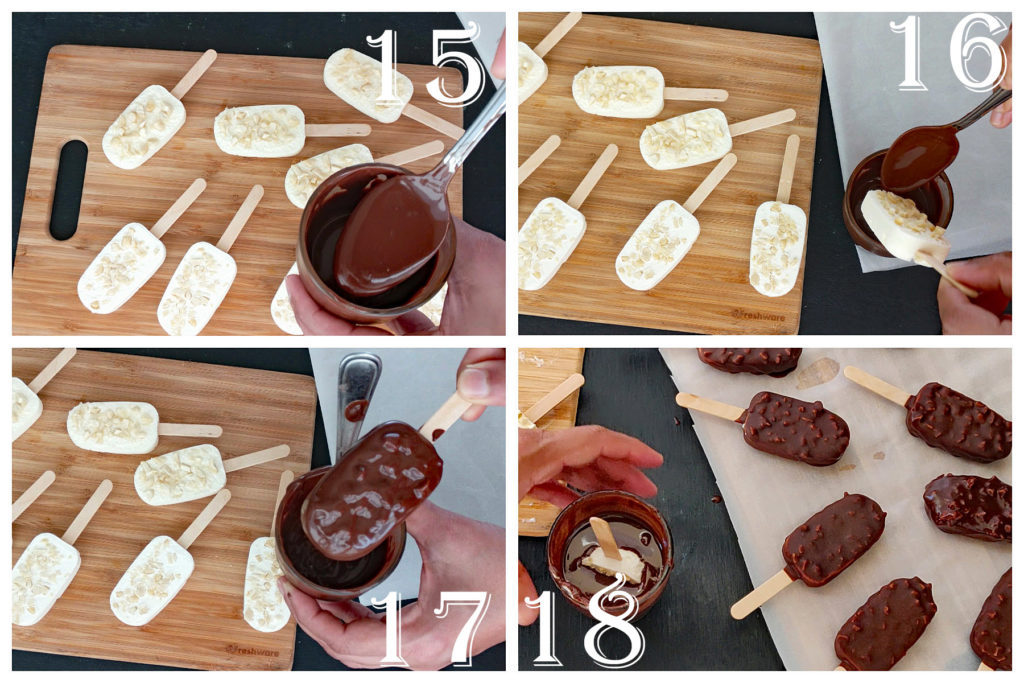 Dip one by one quickly (Pic 18) and if needed you can warm the chocolate melt to bring to right consistency.
Because of dipping cold ice cream the chocolate mixture turns thick so warm it to bring to right temperature.
Once done with dipping immediately freeze the choco bars and enjoy after 30 minutes to 1 hour.
Print Version
Will be updated soon