Neapolitan ice cream is a very colorful and attractive ice cream which I made it for last summer and no need to say how this yumilicious ice cream attracts the kids :-)Basically Neapolitan ice cream originated from Italy from its city name Naples (Neapolitan Immigrants). This is also called as harlequin ice cream, which has flavors made up of three separate blocks of vanilla, chocolate, and strawberry ice cream arranged side by side in the same container. Of course, many variation exists and many more toppings and flavors can be introduced to the recipe. Also today my version is somewhat healthy with natural flavors of Blueberry, Strawberry and Mango 🙂
Ingredients for Neapolitan Ice cream
Eggless Blueberry Ice cream –  3 Cups
Eggless Mango Ice cream or Mango Custard Ice cream or Vanilla Ice cream – 3 Cups
Strawberry Ice cream – 3 Cups
Breaf Loaf Container or any like container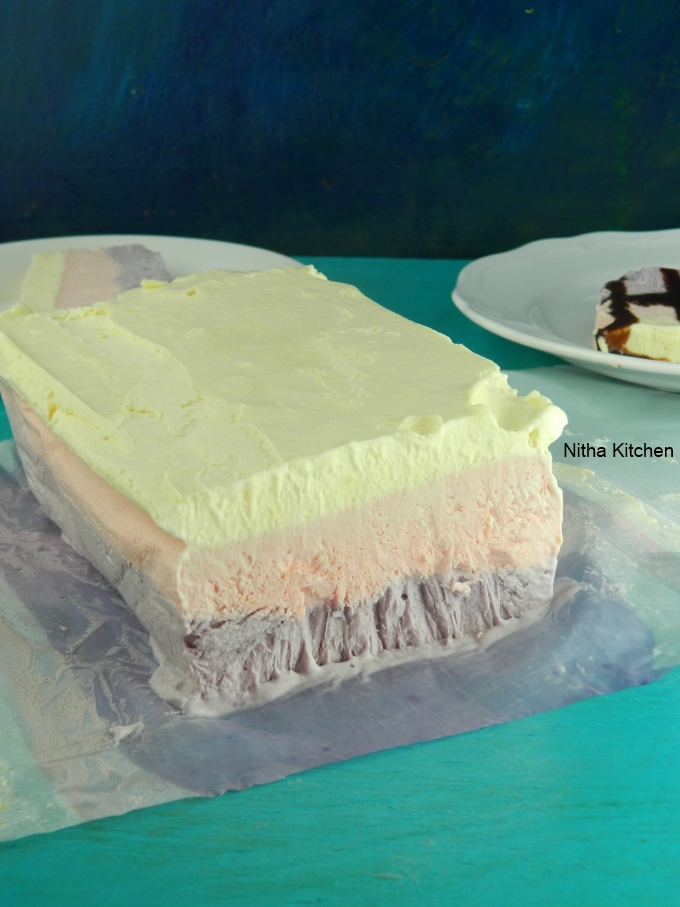 How to assemble Neapolitan Ice cream
First before adding ice cream do think how to pull it out easily once done freezing.
So I used parchment paper (leave enough paper on top for easy removal), also cling wrap works out here.
First add blueberry ice cream, while adding it should be soft and freshly made (room temperature ice cream) and not the frozen one.
So level it and freeze it for 2 hour at least before adding the next flavor.
After 2 hours or so add the next flavor, I used strawberry next.
Let it sit in freezer for 2 hours.
Later add the last flavor (either mango or vanilla) and cover the top and freeze it.
Once top layer is also set, may be after 2-3 hours in freezer or overnight.
Do pull it out from freezer, and lift the parchment paper gently from the loaf tin.
Slice them when they are so cold.
Top it with any syrup and ice cream toppers as you wish.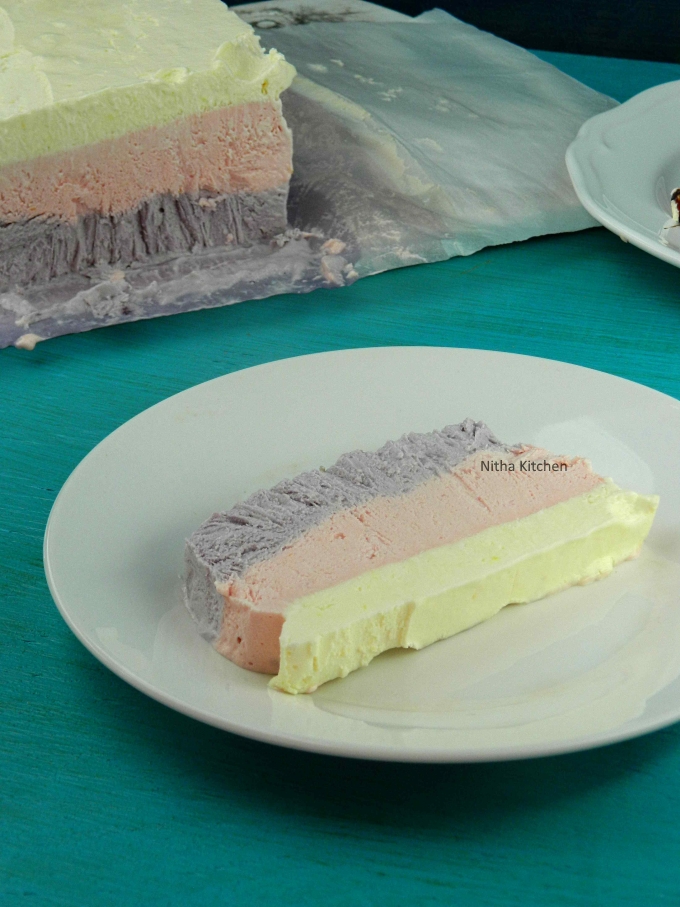 Variations
You can just follow this same steps to make any flavor ice cream.
Also instead of fresh ice cream store bought ice creams can be used.
Also feel free to add chocolate chips, fun fetti, crushed cookies or pecans or nuts in your ice creams.
Print Version
Neapolitan Ice cream
Ingredients
Blueberry Ice cream - 3 Cups

Mango or Vanilla Ice cream - 3 Cups

Strawberry Ice cream - 3 Cups

Breaf Loaf Container or any like container