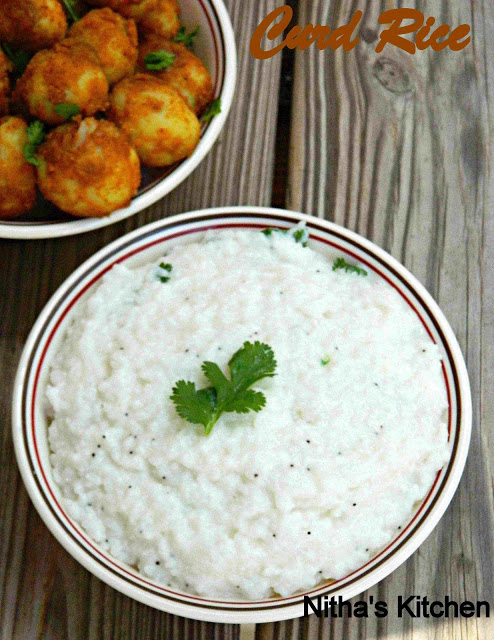 Here comes the creamy/buttery restaurant style curd rice with no chunks/pieces of chilis. We usually add finely chopped green chilis to yogurt rice but my Kids love curd rice without any chili bites. I have noticed in few restaurants the curd rice haas spice but i couldn't find traces of chilis in it. So I recreated the same with my way of cooking green chilis in milk for few mins, when cooled completely add yogurt and mashed cooked rice to it. Give the final touch by tempering mustard seeds.
Ingredients
Cooked Rice – 2 n 1/2 Cups
Butter – 1 Tbsp
Thick Yogurt – 1 n 1/2 Cups
Milk – 1/2 Cup
Mustard Seeds – 1tsp
Coriander Leaves – Few
Ginger – Small Piece (Optional)
Urad n Channa Dhal – 1 Tbsp each (Optional)
Salt,Water n Oil – As Needed
Method
Cook the rice with 1:3 (Rice:Water) and allow to cool completely.
Mash the rice with butter and salt Pic 1, you can also use food processor to mash the rice.
Boil the milk with chopped chilis and strain the seeds Pic 2.
When cooled completely add milk, chilled yogurt to the mashed rice.
Finally temper with mustard, ginger (optional) and dhals (optional) as you like Pic 3.
You can add chopped curry leaves at this point.
Check salt and garnish with coriander leaves.
This curd rice goes very well with pickles/Spicy Potato Masala Roast/raw onion/shallot.
Note:
Can reduce yogurt and add butter milk as well.
If elders feel hard to bite the dhals then soak the tempered mustard n dhals with boiled milk for few mins and then add the mashed rice.