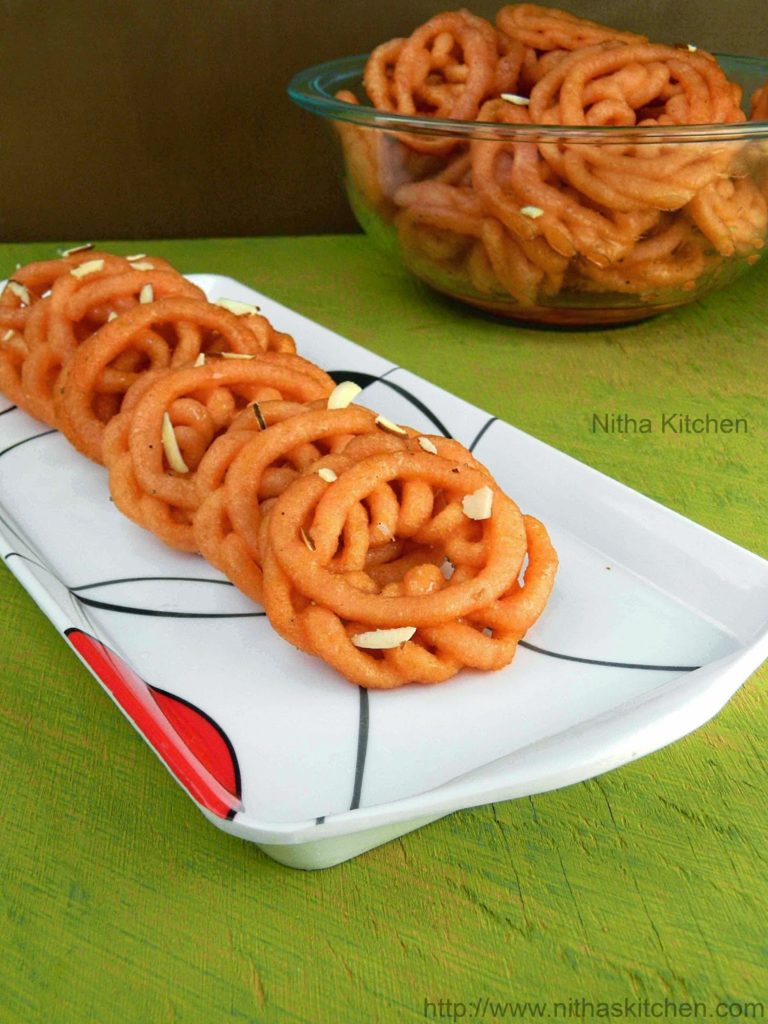 Great fans are there in each and every home for mini soft Adyar anandha bhavan
Jangris. We never get this softer urad dhal version here in stores, only crispy jelebis
with red and yellow maida flour based versions are freshly available. Even we call this softer version as Jelebi/Jalebi in our place. A year back when MIL came here she bought it from ananda bhavan that was the last tasted
till yesterday. Whenever I go to Indian stores I search for fresh sweets and end up in getting frozen in the name of "Jalebi", but not worth i feel so. I thought of trying it at home and discussed with Mom in call, she gave me the
ingredients and some tips, also I remembered MIL's tips when making medhu vada. But I totally forget the shape how it looks so searched in google images, took some designs,
tried it out in papar before playing with batter he he he…When comes to
grinding the batter in mixie, I searched for such a recipe with blender/mixer but
couldn't find anything, suddenly it striked my mind, why not to use cake beater/mixer here to aerate
the batter, is that only for cake  preparation? why not to give a try for
our classic recipes? So implemented everything in a right manner and the output
was awesome, definitely the pictures prove that…Also recently i bought the grinder so updated the recipe with both mixie and grinder versions, hope you pick your version 🙂
I have uploaded a video so check it to make the shape perfect.
Ingredients
Whole Urad Dhal – 1 Cup
Sona Masoori or any type of Rice/Rice flour – 1 Tbsp
Oil – Required to fry
Red Food Color – As needed
For Sugar Syrup
Sugar – 2  Cups
Water – 1 n 1/2 Cup
Red Food color and Rose Syrup – As needed
Cardamom Powder – 1-2tsp
Method 
Soak dhal n rice for 45-50mins.
Drain water n grind half of the quantity in mixie first.
Add a tsp of water at a time and grind well to nice/smooth consistency
Don't add too much water, when blended well check it by dipping small dough in water, it slowly starts floating on the top.
That's fine remove it from the jar n drop it in a large bowl.
Blend the remaining soaked mixture n drop in to the same bowl.
Now once all the batter grinded add food color n rice flour if using insted of raw rice.
Take the electric mixer with wire whisk (an egg beater ) attachment, whisk for 4-5mins in medium speed.
This step is to incorporate more air to the batter.
When u get whipped cream texture stop beating as shown in the picture.
Otherwise check by dropping small dough in water, it quickly starts floating on the top, this is the right consistency.
Now take a ziploc bag, cut one of the closed corner with scissors (size as you like n it is same as we do for Mehndi/Henna).
Drop the batter in to the bag, round it and squeeze excess air out. (Same process we follow for cake decoration using piping bag).
Make sample designs over the plate.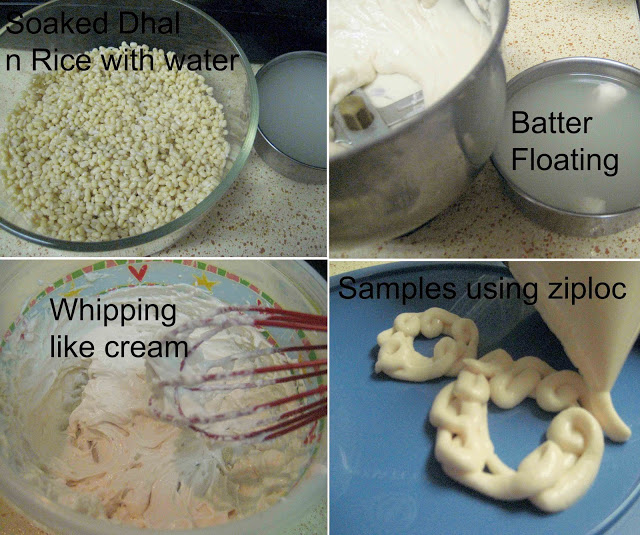 If Using Grinder only consistency varies and skip the whipping part as mentioned above, remaining process are same…Check the step wise pictures below…
Pic 1 :- Grind at least 40 minutes, wipe the sides on and off
Pic 2  :- Check it is airy by dropping in water, it should suddenly float on top
Pic 3:- The ground urad batter
Pic 4:- I mixed Red  food color and lightly beaten in my hands to aerate more.
Now the Frying process are same…
Heat oil in a pan to fry the jangris.
Check the oil temperature by dropping small dough in it, slowly pops up, that's the right temp.
Now start making shapes directly in the oil(Stepwise Pic 1 above), leave as much space between jangris and make it fast while making shapes.
Now increase the flame bit, flip it on n off and when turns crispy remove from heat (Pic 2).
Make sure to cook well before removing out.
Complete the dough by frying in batches (Pic 3).
Add water, sugar in a sauce pan, bring to boil, in medium flame .
Put off of the stove when syrup boils for 8-10 minutes or forms single thread consistency.
Add food color and cardamom powder mix well allow to cool.
Now dip the cooked jangris (Pic 4) when the syrup is bit high in temp over lukewarm (not too hot or not too cold), invert the jangris and take it out after a minute.
Repeat for all and finally pour the syrup over all immersed jangris again to absorb sugar syrup at least for 1-2hrs.
Definitely u need more syrup for all this fried jangris so soak in batches or else taste the bottom soaked jangris first, if like to prepare more syrup then increase the quantity…
Another important step, for every one-two hourr, filter the sugar syrup and warm it and pour all over the soaking jangris evenly, doing so helps the jangri to absorb well and even.
Flat/Rectangle utensils or aluminum tray is better for soaking, also cover with cling wrap when it is cooled completely and make sure to use wooden sticks to handle the jangris anytime.
Note:
1 Why using Rice flour/rice in making Jalebi
i) Gives some crispness so that we easily identify when it completely
cooked.
ii) Consumes less oil in deep frying process, this is my MIL's suggestion.
2) Don't soak the dhal more than 1 hour, doing so absorbs much oil.
3) You can immd immerse the cooked jangris in lukewarm syrup after taking it
out from oil.
4) Even I tried with cake decorating plain tool tip, which works great when
the tip has large hole which makes perfect jangri shapes directly in oil.
5) You can make the syrup before making jangris too and make sure it is warm
while adding jangris in to it.
6) If needed add lemon juice to sugar syrup to avoid crystallization, but i
never do that…
7) I used Indian mixie to grind the batter initially, hope food processor/magic bullets are also fine to work with.
I have updated the recipe with recent pictures, old picture below…