Chicken stuffed dinner rolls are perfect for light dinner, Indoor Parties or family get together…The dough has light butter and yeast to make the buns soft and crispy on top. I came up with loads of desserts as Valentine's treat so today I scheduled this khara/savory buns. If you are a savory lover that too chicken fan then this stuffed buns are going to perfectly suit your cravings 🙂 I added moderate spices in the stuffing, you can adjust it to your tolerance.
Ingredients
APF/Maida – 2 cups
Dry Active Yeast – 1 and 1/2tsp
Salt n Sugar – 1/2tsp each
Butter (Softened) – 3-4 Tbsp
Egg – For brushing on the top of buns
Milk – 3/4th Cup
Sesame Seeds – For Topping the buns
For Filling
Boneless Chicken  Chopped – 225gms or 1/2 Pound
Red Chili Powder/Flakes – 1/2tsp
Chopped Red/Green Capsicum – 1/4 Cup
Chopped Onion – 1/2 Cup
Garam Masala/Chicken Masala Powder – 2tsp
How to prepare stuffing
With a tbsp of oil saute all the above ingredients (Pic 3) till moisture from chicken goes off completely.
Cool the mixture before stuffing in the buns.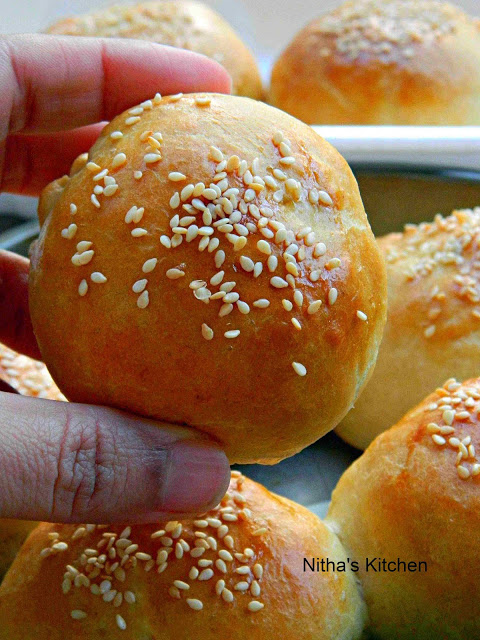 Method
In luke warm milk add yeast, sugar n salt, mix just to dissolve yeast.
Finally add butter to the milk mixture and give a stir.
In a large bowl make a well in the center of the flour.
Gently add milk mixture to the flour (Reserve 2 Tbsp).
Knead to soft pliable dough by sprinkling the remaining milk mixture, if needed add more milk.
Rest the dough in warm place for 45-60mins (Pic 1) or till it doubles in size (Pic 2).
Roll to equal lemon size balls (Pic 4 – Step 1).
Flat it (Pic 4 – Step 2), keep the filling inside (Pic 4 – Step 3) and cover it up (Pic 4 – Step 4).
Again roll it round and remove the excess dough (Pic 4 – Step 5).
After making shapes, place the rolled buns in round cake pan (Pic 5).
If you keep it very close then they touch each other and final output will be a pull Apart buns.
Again rest the shaped rolls for another 45mins to raise, in between for every 20mins once brush the top with egg wash (atleast 2 times before start baking).
Preheat the oven to 400°F and bake for 12-15mins or buns turn light golden brown (Pic 6).
When it is hot out from oven immd apply butter to get shiny brown top!!!.
Have it with ur favorite spread or Plain (We had it with Fat free Cream Cheese spread)…
Note;
Don't use very hot milk, it kills the yeast.

Make sure the filling is also not too hot (should be cool enough) before covering with dough.

If like to add egg in the dough you can, use 1/2 of egg while preparing the dough and reserve remaining to brush the top.
While rolling the bun with the stuff, if you feel it cracks here n there lightly then wet ur palms with milk and roll, it hides the crack.
I already came up with Eggless, Sweet and Cute shaped dinner rolls, here is a quick round up…
Updated with New Pictures…