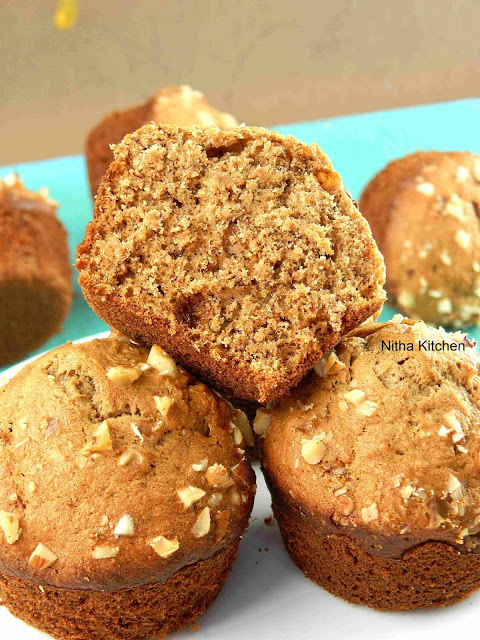 I bake muffins on weekly basis for kids morning school snack. Healthy muffins are always my choice and today's banana nut wheat muffins recipe is fully loaded with Bananas, Apple, Wheat and Powdered nuts (I use Almonds and Walnut mostly, do prefer nuts of your choice). Also coming to egg, i experimented an egg less version and muffins with 2 eggs for this recipe, i found a slight change in muffin texture without egg, so choice is yours…Also please add baking soda and this recipe doesn't need any baking powder note that point otherwise the muffin won't rise properly.
Recipe Source :- Own
Yields – 16 Muffins
Ingredients for Banana Nut Wheat Muffins
Whole Wheat Flour – 1 Cup
Unbleached All Purpose Flour – 1 Cup (Replace with Maida)
Whole Almonds and Walnuts Or Almond Meal – 1/2 Cup (you can use any other nuts)
Banana – 4 over ripen (I use dole banana, if using apple sauce then 3.5 bananas are enough)
Apple Sauce From 1 small size apple (1/4 Cup) (Optional)
Unsalted Butter – 8 Tbsp (6 Tbsp also works)
* Thick Yogurt/ Greek Yogurt – 1/3 Cup (Replace with Egg – 2 Numbers)
Vanilla Extract – 1tsp
Dark Brown Sugar – 1 Cup (You can reduce to 1/2 cup and add regular sugar for the remaining 1/2 cup also for less sugar muffins on the whole 1/2 cup is fine)
Baking Soda – 1.5tsp (note it, its soda and not baking powder)
Cinnamon Powder – 1tsp
Chopped Walnuts/Almonds – 2 Tbsp, for the topping, finely chop it and keep aside
Salt – 1/2tsp
* Adding Yogurt instead of eggs makes difference in the muffin texture…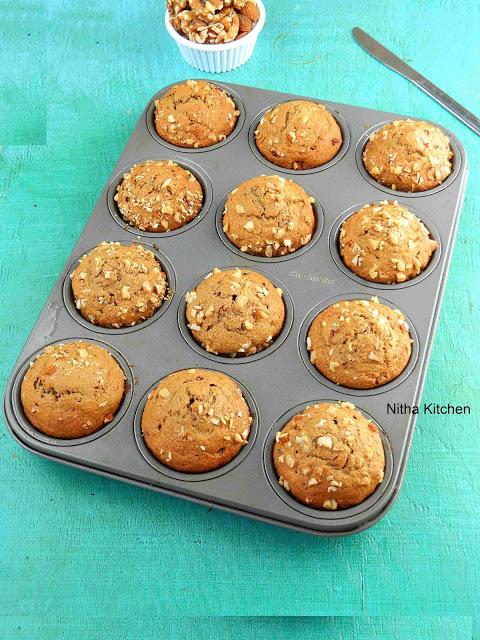 Banana Nut Wheat Muffins Preparation
Measure all the ingredients and get ready (Pic 1).
Powder the nuts in food processor, either fine powder or coarse both works well and keep aside.
In a bowl add wheat and regular flour (Pic 2), baking soda, cinnamon powder and salt, mix all together.
In another mixing bowl add soft butter, brown and regular sugar (Pic 2).
You can whisk butter and sugar before adding other ingredients (optional).
Also add ripen bananas, powdered nuts to it (Pic 3).
Bear all together until banana and butter mashes completely well.
If adding an egg add one at a time right now.
Now add the apple puree (If using), yogurt (If using) and vanilla extract (Pic 4).
Keep mixing till all binds well..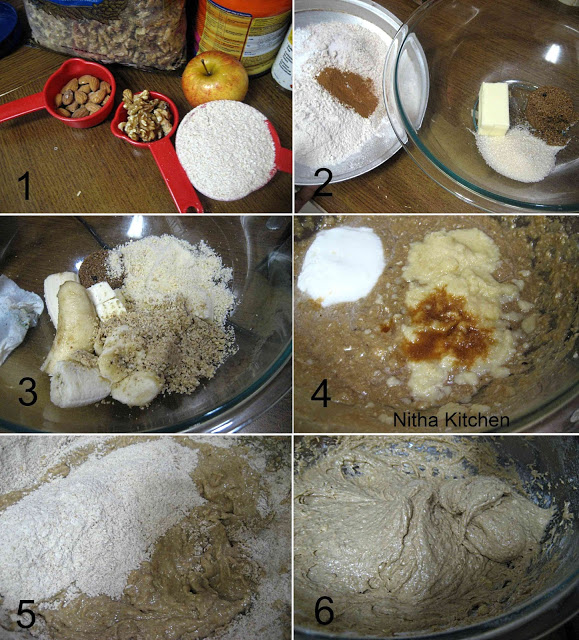 Add the flour mixture in batches (Pic 5).
Scrap the sides and whisk well to fluffy muffin consistency (Pic 6).
Now in oil greased muffin pan, drop the batter in each muffin depression.

Sprinkle the chopped nuts (Pic 7) and bake in preheated oven.at 375 F for 12- 15 minutes or toothpick inserted at center comes out clean.
Initially i make half with nut top and remaining plain (Pic 7 & 8) since one of my kid doesn't like chopped nuts in his bite, later he never minds anything, he just needs sugar in it 🙂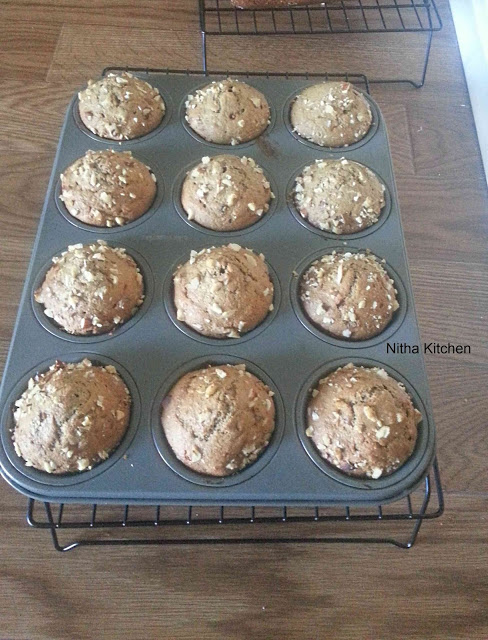 Allow to cool in the pan for 15 minutes (Pic above) and later remove the muffins gently and allow them to cool completely as shown in picture (Pic 8)