Ragi Idiyappam sevai is very easy to make and the video tutorial is going to come soon. Recently we are hearing many threatening news about instant noodles. After that I realized making Ragi Idiyappam Sevai at home and succeeded in my very first attempt itself. I rarely use instant noodles but stopped buying it after learning this technique few months back. I stated in few recipes that ragi millet is my DH fav, even I love this ragi semiya/sev but never bought this in store after coming here. While talking to my SIL, we were discussing the healthy benefits in it and then she suggested me to give a try at home. I am quite happy with the taste which exactly similar to store bought version. Weekly once I have started packing this semiya/Idiyappam/sevaai in kids and H lunch boxes. If you get whole ragi then powder it and try this idiyappam which makes even healthier, I also have homemade kambu flour and sevai recipe, check here.Ingredients for Ragi Idiyappam sevai
For dough
Ragi Flour – 1 and 1/2 Cup
Water – 1 Cup to 2 Cups (Varies by method and recipe follows)
Salt – As Needed
Oil – 1/2 tsp
Garlic/Shallot/Red Chilli – 2 Each (Optional)
Cumin seeds – 1/2 tsp
For Tempering
Steamed Ragi Sev
Oil – 1 Tbsp
Chopped Onion/Shallot – 1/2 Cup
Red Chilli or Green chilli – 1-2 Numbers
Curry Leaves – 1 Sprig
Channa/Urad dhal – 1 Tbsp each
Mustard Seeds – 1tsp
How to make Ragi Idiyappam Sevai
Method I
Boil 1 Cup of water with onion/red chilli and garlic, cumin seeds and salt when starts boiling, filter and add it immediately.
The water should boil well, now make a well in the flour and pour the very hot/boiling water in batches.
Mix well with wooden spatula and when all flour gets the moisture, stop adding more water, check the below picture for the right consistency.
You may not need all water but depends on the boiling temp I have given extra quantity, for 1 1/2 cup of flour 3/4 Cup + 2 Tbsp of water is what i exactly used).
The right consistency is the flour changes color/wet enough and need not be rolled together like a chapathi dough.
Now when you knead with your palms it should gather well without any crack/breaks…
By this time the flour will be half cooked (Pic 1, step wise picture below) and dough should be slightly gooey…
Add .5 tsp oil, You can rest the dough or press it when they are warm (easy to press) , either way works…
Please check the NOTE section for more details.
Video Tutorial for the first method
Method II 
Mix flour and 2 cups of water without lumps.
Now bring to boil with little salt and cumin powder is desired.
Keep stirring and when all moisture goes off , then remove from heat.
You can add few drops of oil (1/2tsp) right now…
(For Step wise Pictures Check the Lemon Kambu Sev I did in the same method)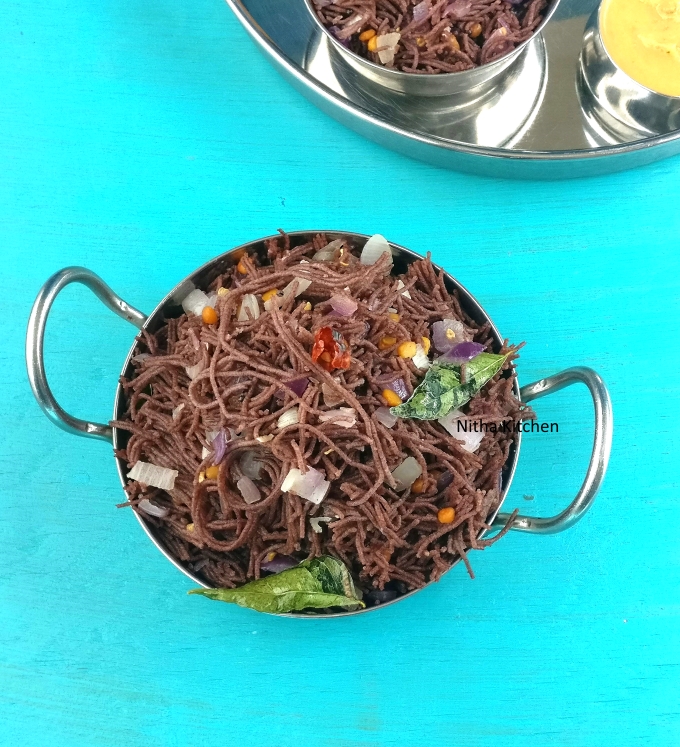 Choose your convenient method, even if you get breaking sev in first method u can add few more water and follow the second method.
When dough cooled down, use sev press and press in circular motion over the idli plate Pic 2.
Use cloth or grease the idli plates with little oil.
Add necessary water to the idli pan and steam this pressed ragi idiyappam for 3-5mins (Pic 2), this cooks soon mine took only 3 mins, but depends on the utensil make a