I wish all my dear Friends, Family Members, Readers and Bloggers a very happy & safe Diwali, let the light you spark bright up your life -:) Here comes one more sweet Maida Burfi recipe to celebrate this holy festival.  Very simple ingredients this sweet use and you can make this under 20 minutes of time (excluding chocolate set). Also this is a reduced sugar burfi version that you can make in jiffy. The chocolate topping/glaze is optional let's move on to the detailed recipe!!!


Recipe Source :- Own


Yields – 6 Pieces 


Ingredients
Maida – 1 Cup + 2 Tbsp
Sugar – 3/4th Cup
Water – 1/3 Cup (after sugar melts just it takes 3-4 in medium flame to come to one string consistency)
Ghee – 1/4 Cup (I used 3 and 1/2 Tbsp)
For Glaze or Chocolate Coating
1/3 Cup –> Semi Sweet Chocolate Chips or Any good quanlity chocolate (I use chocolate chips)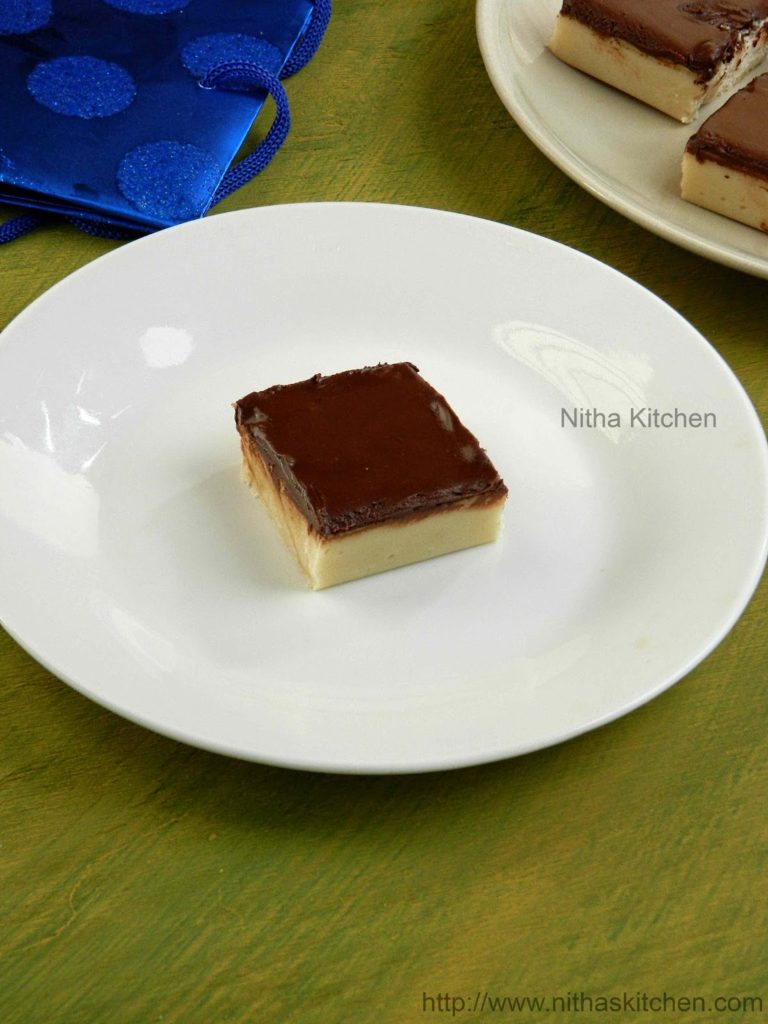 Method
Sieve the flour and grease a plate or pan with ghee, keep aside.
In a wide pan add 1/4 cup ghee and when it is hot add the flour (Pic 1).
Roast the flour in medium flour for 4-5 minutes or till nice aroma attains (Pic 2).
By that time the flour may have lumps try to break while frying and if still exists nothing to worry.
Remove the roasted flour to a plate and in the same pan add 1/3rd cup water and sugar.
When sugar melts completely, keep stirring in medium for another 3-4 minutes or one string consistency is attained (Pic 3).
Here the sugar consistency is important for the perfect texture of burfi.
Reduce the flame and add roasted flour(Pic 4), keep stirring in low flame for few more minutes and make lump free (Pic 5).
At one stage all rolls together and look like shown in picture (Pic 5).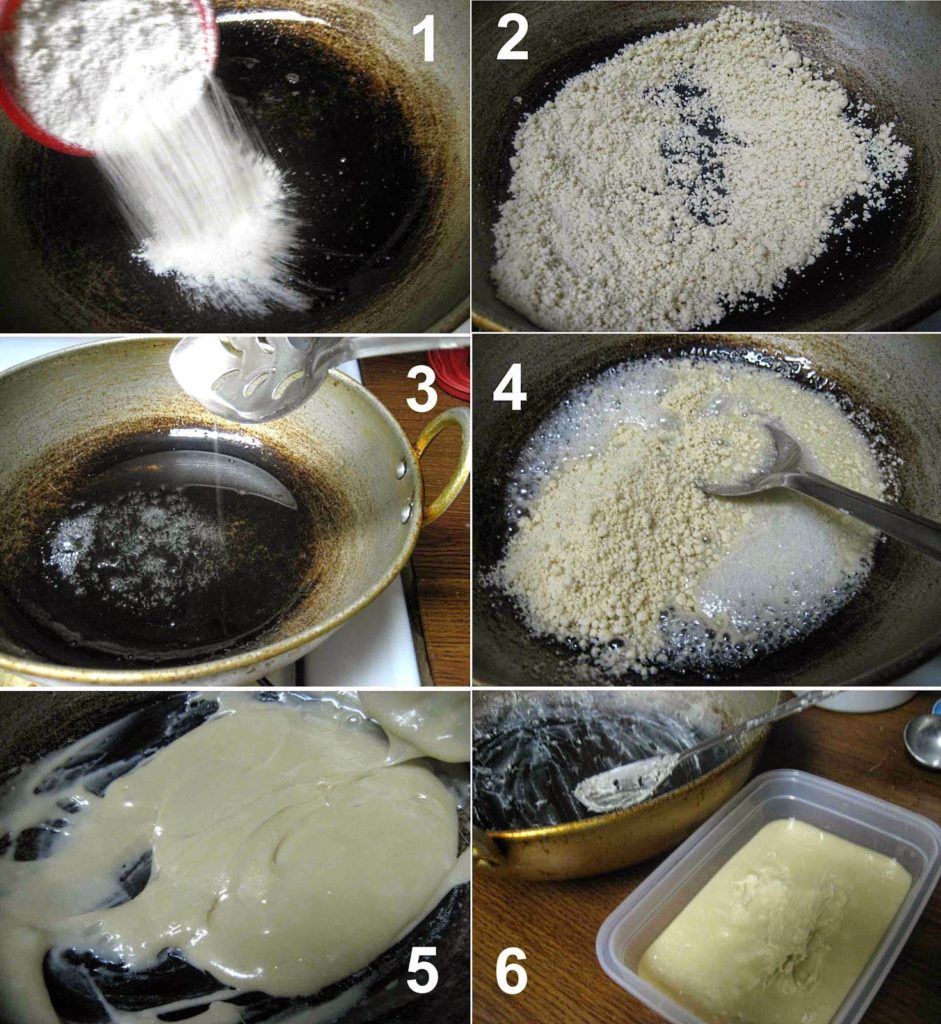 Pour the mixture in to already greased pan, tap well to make even all around (Pic 6).
It dries out soon you can grease the back of spoon with ghee and level the top.
The burfi sets in 10 minutes of time.
You can enjoy this plain maida burfi as it is.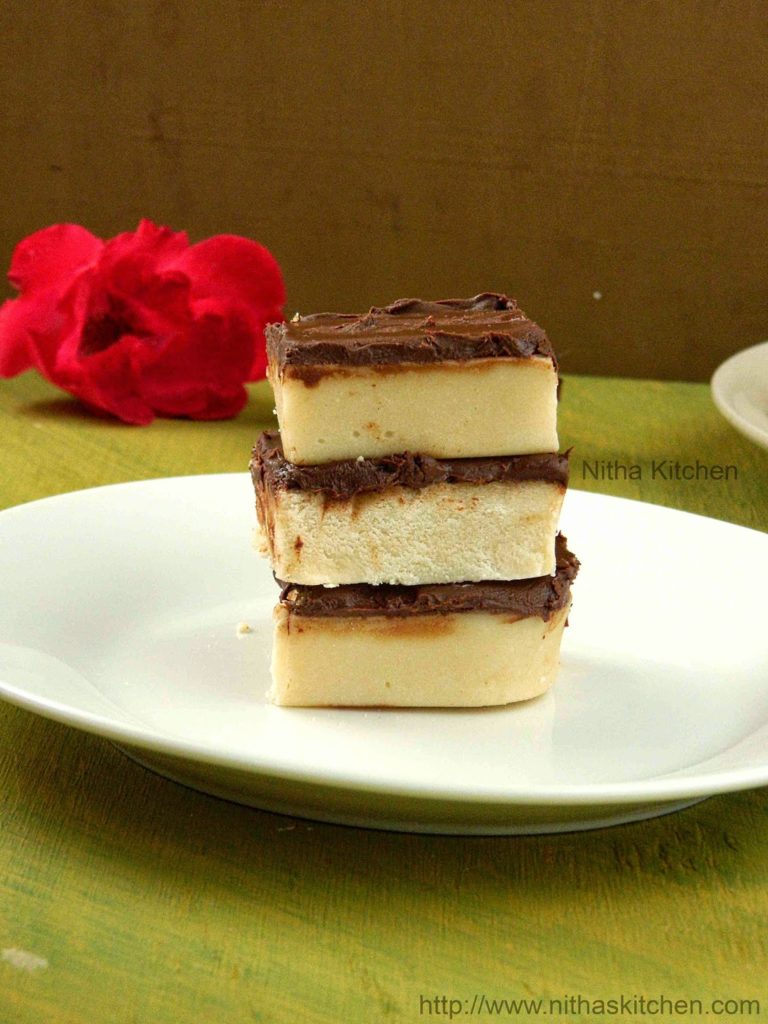 Or
You decorate the burfis with some chocolate glaze (melted chocolate) and pour over it.
When decided to decorate with chocolate coating then allow the maida burfi to set for at least 10 minutes.
In a bowl take the chocolate chips (Pic 7), Microwave for 30 seconds or use double broiler (melt in a separate pan over boiling water) and melt the chocolate and once all melt completely (Pic 8) pour it over the already prepared maida burfi (Pic 9).
Tap it well so that the top evens (Pic 10).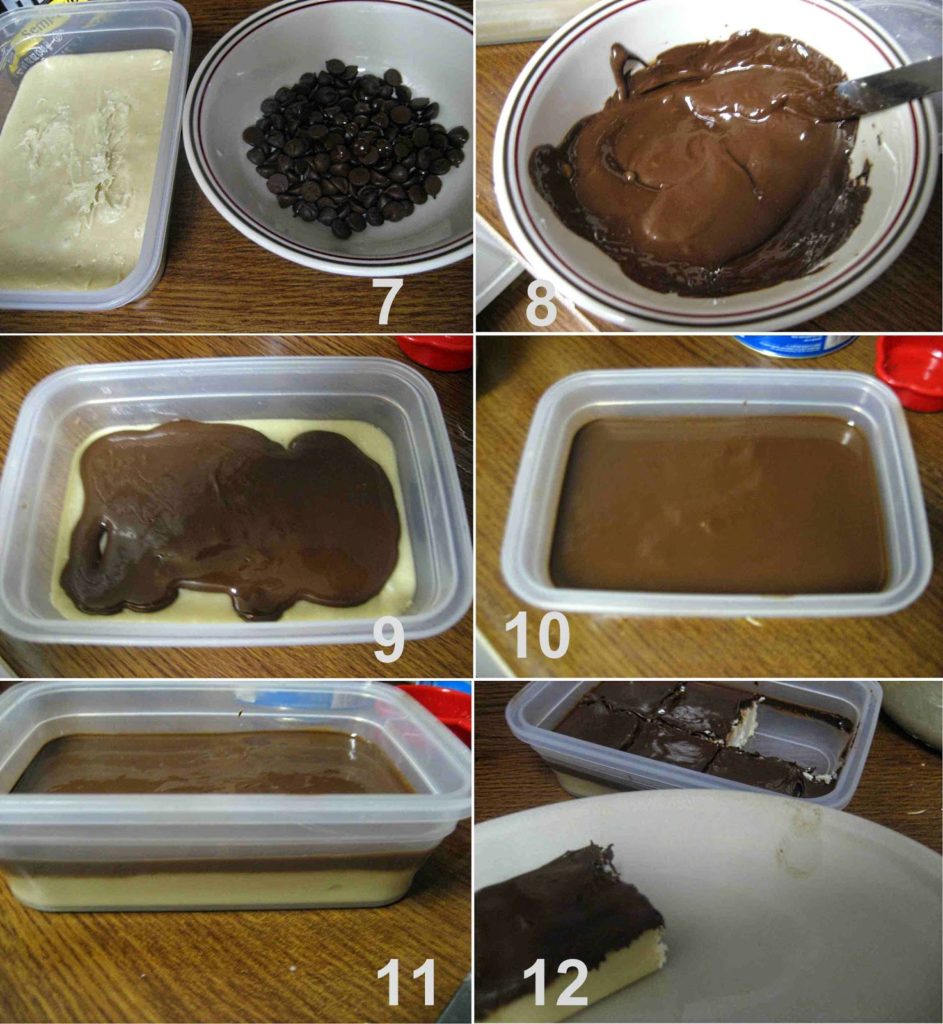 Allow at least 1 hour for the chocolate to set (Pic 11), time depends on what type of chocolate you use.
Also when the temperature is hot in your place it takes time to set better refrigerate to set quick.
If the choc is not stick to your fingers when you touch then it's all set.
Use Jam spreader or knife and cut the burfi in to pieces (Pic 12).
If you feel hard to cut then dip the knife or slicer in hot water and then cut it (i did so).
Once you cut in to pieces using warm kinfe then leave the pieces for another 10-15 minutes to set, its optional so that the glaze won't stick in your hands.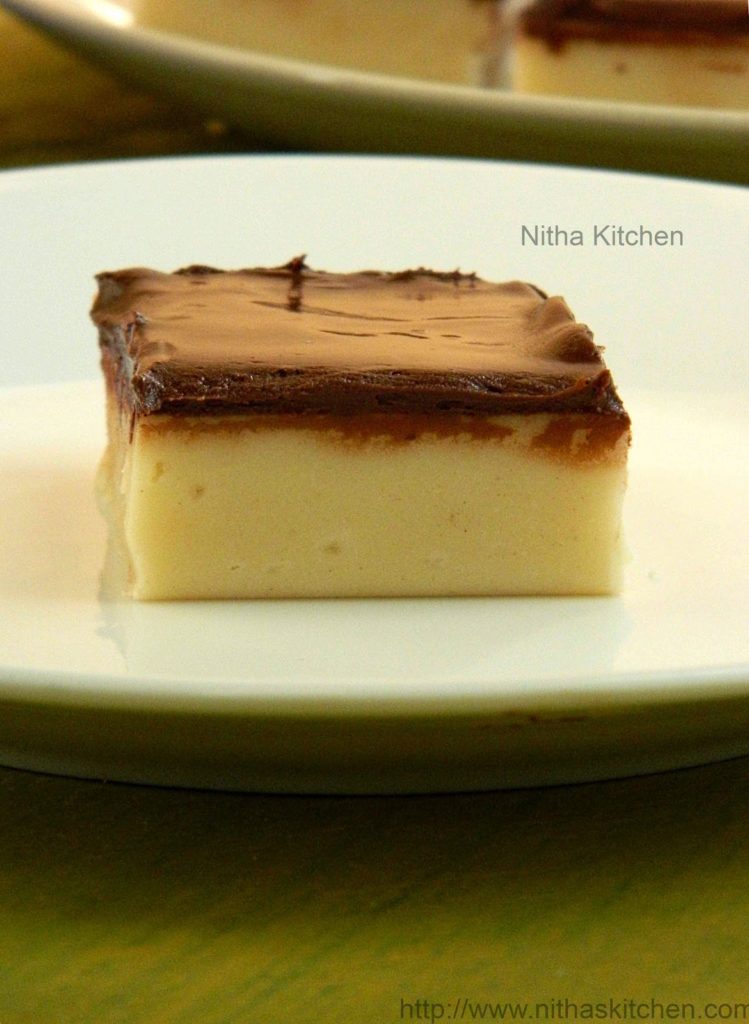 Note:
If you feel the melted chocolate is very thick you can add 1/2 tbsp shortening or coconut oil mix with melted chocolate and then pour it over burfi.
You can refrigerate for quick chocolate setting