I have been practicing this healthy lunch bowl for several years and once in a while when sun peeps out I am delighted to click the lunch preparation. Also my laptop cracked and useless for a while and recently it gained its power (me too 🙂 ). So you can expect some unique recipes flow in my kitchen for sure in the near coming days….Today's recipe is such a healthy mix of protein, vitamins and carb (a balanced one pot meal) and feel free to add your favorite veggies, beans, rice and spices(refer note) . It's just an idea how I make this healthy filling energy bowl and also I baked these veg bowls not so long the filling is already cooked so I don't want to burn the capsicums (if you wish proceed beyond the time I specified). Also capsicums cook fast when you brush them with

oil mixed with spiced salt (the bell pepper tastes great so love doing this way) or just melted salted butter. This same filling can be used with a mild alteration any where like veg Quiche or savory muffins, Veg rolled roti and Quesadilla.


Veg Filling for Stuffed Bell Pepper Veg Bowl
Onion – 1 Medium
Tomato – 1 Medium (alter with 1 lemon juice add at the end)
Carrot – 1/2 Cup
Beans – 1/3 Cup
Cauliflower or Broccoli – 1/2 Cup (Shredded
Chopped Garlic or Garlic Powder (Optional) – 1/2tsp
Spinach or Kale – 1 Cup
Green Onion – 1/4 Bunch (Optional)
Capsicum – 1/2 Finely chopped
Seasoned Salt  – 1 tsp (You can replace with mix of garam masala and red chili powder)
Pepper Powder – 1/4 tsp
If you have Banana Flower or Wonderberry (Turkey Berry Leaves) feel free to chop and add
Cooked Rice – (Optional, sometimes I add 1/4 cup brown rice)
Feel Free to add your favorite veggies like potato, mushrooms so and so
Ingredients needed for assembling the rice bowl
Few Color Capsicums
Cooked Beans – 1/2 Cup (I prefer Black Beans or Kabuli or Black Chana mostly)
Monetary Jack Cheese or Sharp Cheddar or Mozzarella or Shredded Paneer  – 1/2 Cup (Slight mix of Mozzarella is fine, you can increase the cheese quantity if you like)
Also for Vegan version either skip cheese or use Vegan Cheese
Stuffed Bell Pepper Veg Bowl Preparation
Soak the beans for 6 hours at least (if using the dried one) and cook them separately…let them cool.
Meanwhile add olive oil in a wide pan.
Temper some cumin seeds (optional), add chopped onion, garlic (if using) saute with a pinch of salt and wait till it turns golden brown.
Now add chopped capsicum (you can use green chili or red chili powder instead of capsicum here)
Saute till capsicum turn tender.
Add the chopped tomatoes, seasoned salt, red chili or garam masala or garlic powder right now with a 1/2tsp salt.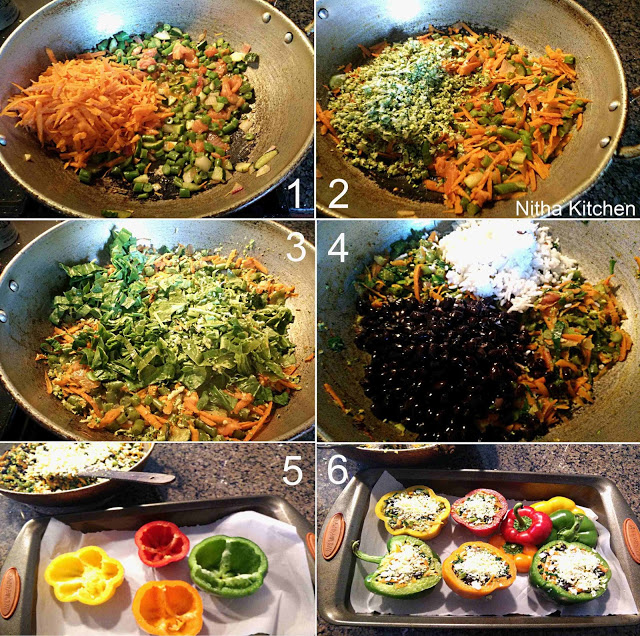 Let them cook till it turns mushy and mix well with the other ingredients.
Now its time to add beans since beans take some time to cook compared to other veggies (Stepwise Pic 1).
After 4 minutes of beans cooking add thinly sliced carrot (Pic 1), saute by covering with lid for 2 more minutes (If needed sprinkle some water)
Add shredded broccoli or cauliflower it may not take more than 2 minutes to cook (Pic 2).
Now Kale or spinach (Pic 3) saute for couple more minutes till they become wilt.
That's it all the veggies are done, adjust salt accordingly.
You can add cooked and drained beans to this filling right now (Pic 4).
Don't add cheese when they are hot.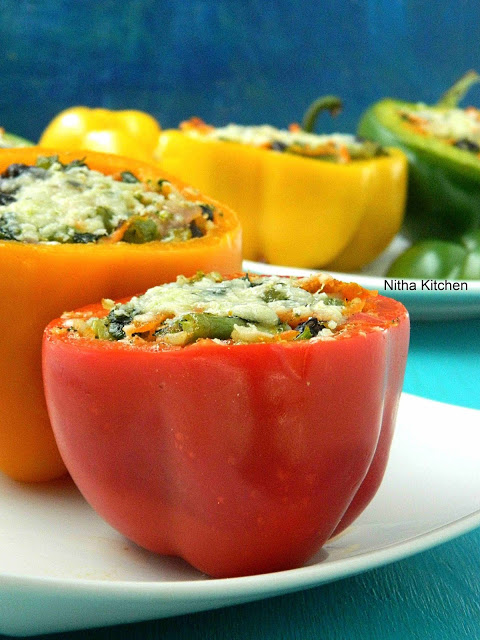 Assembling
Wash the capsicums, cut the top and  brush with oil if you like to (Pic 5, I skip oil brushing).
Now when the mixture is not so hot add cheese to it.
Dump them in the capsicum, (reserve few cheese and add it on the top, prefer to add frozen cheese on top so they take time to melt).
In preheated oven bake them at 375 F for 20 to 25 minutes.
Serve hot 🙂
Tips
You can add grilled meat or sea food with it.
The can be tried in Instant Pot as well.