My parents visit often when i was in Chennai and my dad/appa never fails to taste Gobi Manchurian during his trip. Either we go to restaurant or vice versa, anyways he needs it often :-). My mom makes it at home using gram flour. Though I prepare it in a similar way as I stated here, today I adapted with less spices by keeping his age in mind. As a blogger this is the first recipe I prepared specially for him and posting here from my mom's kitchen/Hometown :-).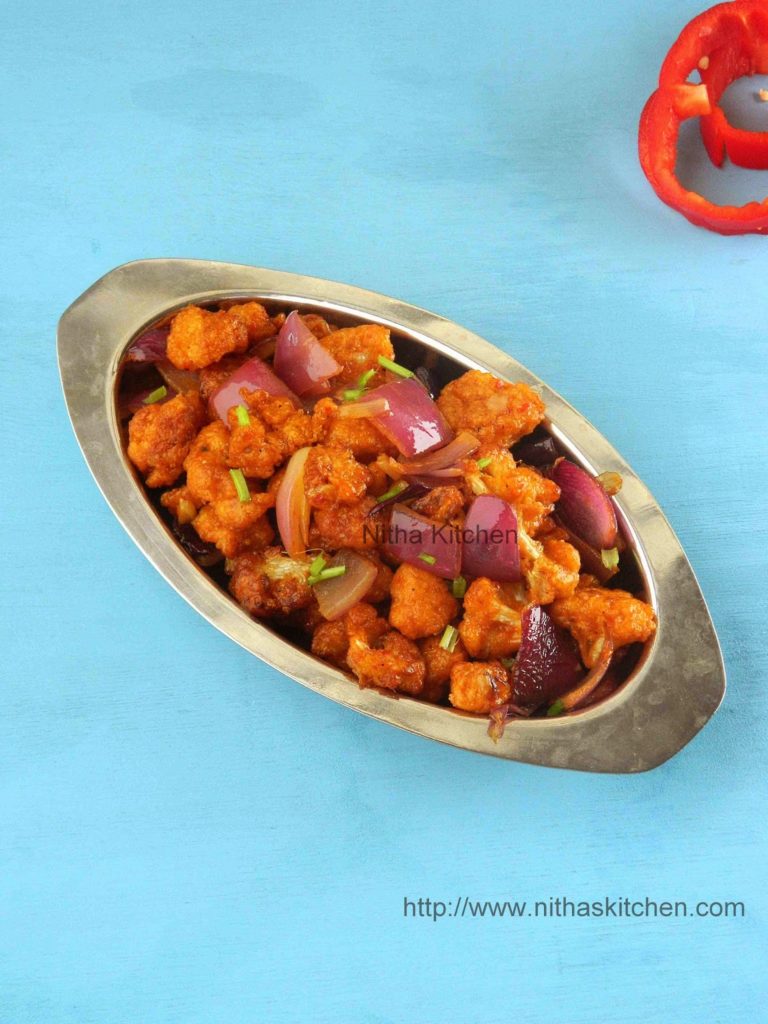 Ingredients
Cauliflower – 1 (Medium Size)
APF/Maida – 1 Cup
Corn flour – 1/2 Cup (Replace with 6 Tbsp Gram Flour + 2 Tbsp Rice Flour)
Ginger Garlic Paste – 1 Tbsp
Pepper Powder – 1tsp
Red Chili Powder – 1tsp
Food Color – Optional (I usually don't)
Lemon Juice – 1/2 Tbsp
Oil, Salt n Water – As Required
For the sauce
Onion – 1 Medium Size
Tomato Paste/Puree or Ketchup – 1/2 Cup (I used homemade puree with 2 tomatoes)
Green Chilli – 1-2 Number
Red/Green Chilli Sauce – 1/4 Cup
Soy Sauce – 2 Tbsp
Garlic – 4-5 finely chopped
Dark Brown Sugar – 1/2tsp (Optional)
Corn Starch – 2tsp
Salt – As Needed
Method
Boil the water (to immerse cauliflower florets) with salt.
When starts bubbling switch off the flame n add the florets in salted water for 2-3mins (Pic 1).
Pat dry the florets before marinating.
If the florets are not fresh enough wash it one more time in normal water.
For marination add all the ingredients half quantity (Pic 2) and make the batter bit watery (Pic 3), marinate at least 30mins (Pic 4).
(You can prepare the sauce right now)
Mix all the remaining half of the ingredients to thick paste, dip the marinated florets and deep fry it.
Drain excess oil using paper towel Pic 5.
For tomato puree, add the washed tomatoes in boiled water for 5mins.
Peel the outer skin and grind it to fine paste.
Prepare the sauce add oil in a pan/kadai, sauté the chopped garlic.
Now add chopped onion and green chilies.
Then tomato puree, chili sauce, sugar and soy sauce.
Bring it to boil finally add corn starch paste (corn starch + water), check salt.
At last add fried cauliflower florets, mix it well before serving Pic 6.
Garnish with coriander leaves or spring onion.
Note:
Add spices according to your taste.
Also you can skip marination and directly deep fry it.
I couldn't find green onion/coriander leaves to garnish at that time.
For marination the batter consistency should be bit watery otherwise florets won't coat well n before deep frying it should be thick.
For gobi manchurian dry version skip the sauce preparation n add more spices in the batter itself.
Old Picture Updated