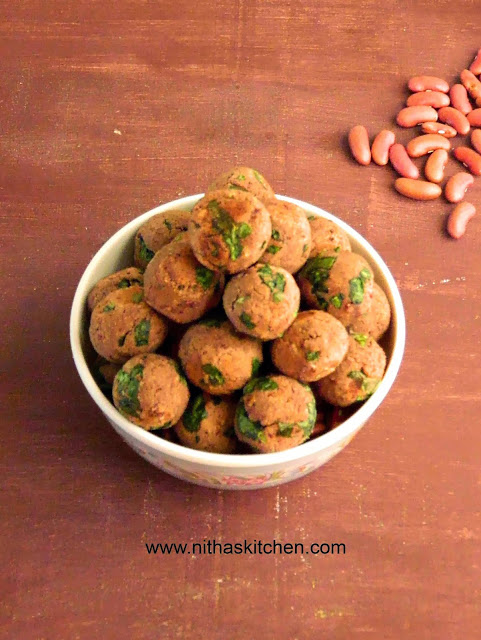 This Spinach Red Kidney Beans fritters are prepared with homey ingredients and are baked. I have given alternate option for bread crumbs, so and so…These healthy fritters can have as it is with hot coffee or tea, also be used in kofta curries, spaghetti sauces etc. I have slightly different deep fried meat less (veg) malai kofta balls recipe
here
…I usually add/top
the mini koftas in vegetarian  pizzas and tastes awesome…The color looks dull but it tastes great and just melts in mouth. Check the pictures
below and I am going to come with the pizza recipe in very next post…
Ingredients
Red Kidney Beans – 1 Cup
Chopped Spinach – 1/2 Cup
Onion – 1 Number (Small Size)
Fried Onions – 2 Tbsp (Optional)
Red Chili Powder – 2tsp
Garam Masala Powder – 2tsp
Bread Crumbs – 1/4 Cup or More as needed to hold the shape (Replace with Rice flour)
Oil – 2 Tbsp
Shredded Cheese – 1/4 Cup (Optional, if using skip oil)
Salt – As Needed
Method
Soak kidney beans overnight or at least 8 hours.
With a tsp of salt and necessary water pressure cook for 3 hisses.
Drain the excess water and pat dry in kitchen towel for another 5 minutes.
Blend this to fine powder and keep it aside.
Crush the fried onion to small pieces.
Mix powdered rajma beans, fried onions, finely chopped Onion, chopped Spinach, bread crumbs, red chili and garam masala powder, Oil and salt.
Now adjust bread crumbs or rice flour as per your need to hold round shape.
Then make medium lemon size balls.
Bake at 350°F for 15-18 minutes or till bottom turns golden brown.
Variations
You can also deep fry this balls.
You can add finely chopped capsicum or green chili's as per your taste.
If you want you can spray little oil before baking.
Also you can lightly saute onion and spinach with a tbsp of oil if like so…
The mini fried koftas in pizza…